We offer a wide range of security solutions to help protect your organization from cyber threats. Our solutions are designed to be comprehensive, easy to use, and affordable.

Our insider threat detection solution uses user behavioranalytics (UBA) to identify and investigate suspicious activity. It can be used to monitor employees,contractors, and third-party users across all devices and platforms.

Our digital certificate lifecycle management solution provides a single pane of glass for viewing, tracking, and renewing your certificates. It also automates many of the tasks involved in certificate management, such as certificate issuance, renewal, and revocation.

Our security posture management solution uses machine learning to scan all of your data assets, both on-premises and in the cloud, to identify sensitive data such as personally identifiable information (PII), financial data, and intellectual property. This data is then classified according to its sensitivity level.

Our application connectivity and security policy management solution helps organizations to automate and secure their application connectivity. It provides a centralized view of all application connectivity flows, allowing organizations to identify and remediate securityrisks, improve compliance, and accelerate application delivery.

Our vulnerability management solution helps organizations identify, assess, prioritize, and remediate vulnerabilities across their IT infrastructure. The solution includes a powerful vulnerability scanner, an integrated patch management system, and a variety of reporting and analytics tools.

Our intrusion detection system (IDS) is a lightweight, easyto-deploy solution that can be used to protect networks of all sizes. It can be configured to monitor network traffic, host activity, and file changes, and it can detect a wide range of attacks, including malware,ransomware, and brute force attaks.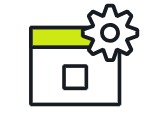 Our software security solution can be integrated into the software development lifecycle (SDLC) to secure the modern software supply chain.It provides static source code analysis (SAST), dynamic application security testing (DAST), and risk assessment capabilities to identify and mitigate vulnerabilities in code, dependencies,and infrastructure.

Our attack surface management solution helps organizations discover, assess, and mitigate their attack surface. It provides a comprehensive view of an organization's assets, both internal and external, and identifies vulnerabilities that could be exploited by attackers.

Our cloud security solution is a cloud native platform that provides comprehensive protection for cloud environments. It uses a combination of machine learning, artificial intelligence, and human expertise to detect and respond to cyber threats in real time.We are confident that our solutions can help you protect your organization from cyber threats. Contact us today to learn more about our solutions and how they can benefit your
Are you ready to take your security to the next level?
Our cybersecurity experts are available to provide you with a freeconsultation. Send a message, we will respond as soon as possible.